REWARDS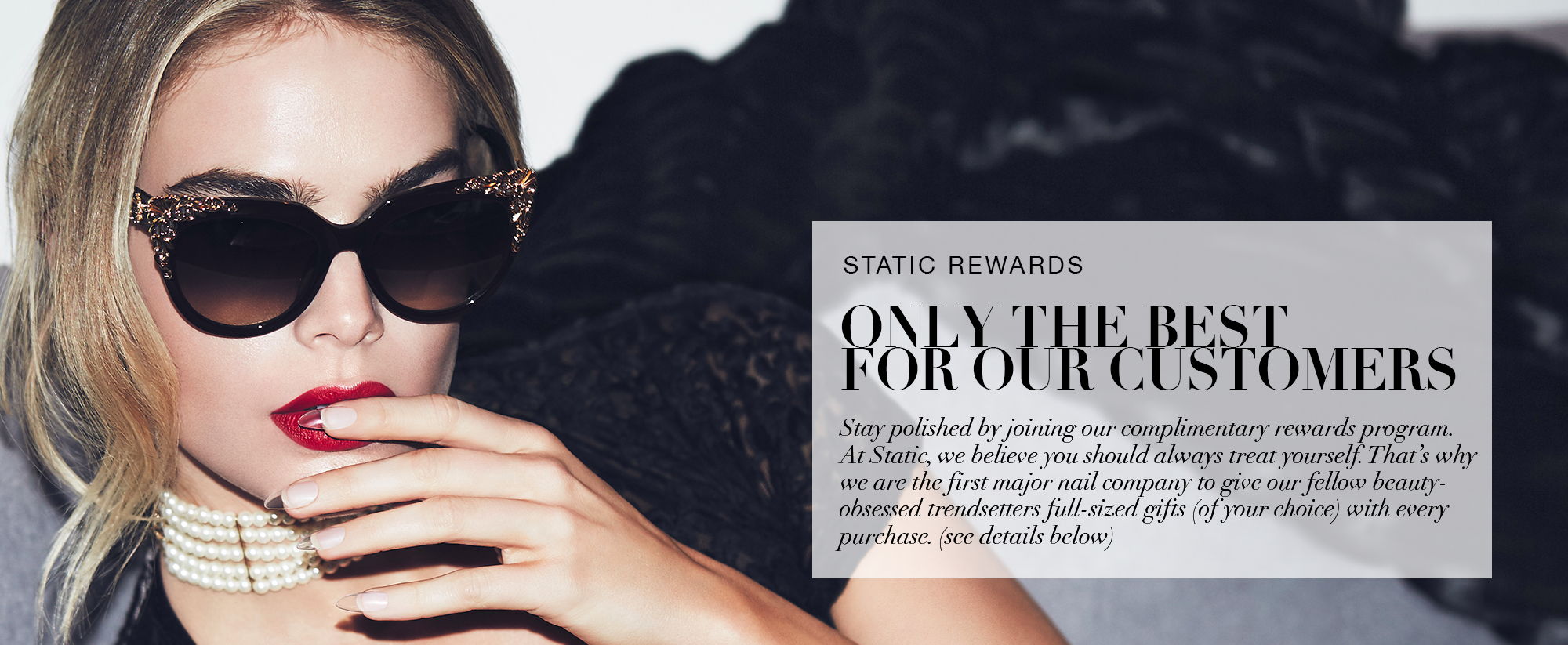 POWER POINTS
Exclusive Discounts + Gifts




Gift your friends an exclusive access code for 15% off on their first order and receive 200 Points ($15) when they make their first purchase.

100 POINTS = $5 GIFT CARD

200 POINTS = $15 GIFT CARD

500 POINTS = $50 GIFT CARD

1000 POINTS = $150 GIFT CARD


 
CLICK THE RED "REWARDS PROGRAM" TAB TO JOIN
 
Points are valid for 12 months from the date of the last qualifying purchase. Each qualifying purchase will automatically extend the expiration date of all unused points in a Static Rewards account for 12 months from the month of the qualifying purchase. If the Static account has no qualifying purchase activity within a 12-month period, all points in the account will expire.
Static Rewards is a free rewards program that lets you earn points on all your product purchases, social shares and customer referrals and then redeem rewards.
HOW DO I JOIN STATIC REWARDS?
Click the red "REWARDS PROGRAM" tab at the bottom of this page, choose to "Join", enter your email address, create a password, then check your email for a message from us to confirm your account. Once done, log in as usual and begin forever evolving your unique style!
HOW DO I EARN STATIC POINTS?
There are many ways to earn points! The first is by simply joining, after that points can be earned by purchasing products, sharing Static on Facebook and Twitter, liking us on Facebook and Twitter, following us on Instagram, referring friends, and as a bonus, Static gives birthday points too!
CAN I EARN STATIC POINTS IF I PURCHASE FROM OTHER RETAILERS THAT CARRY STATIC? 
At this time you can only redeem points when purchasing from StaticNails.com
CAN I COMBINE MY POINTS FROM MULTIPLE ACCOUNTS INTO A SINGLE ACCOUNT?
Yes! If you have more than one Static Rewards account, please email the account(s) information to hello@staticnails.com.
 
HOW CAN I CHECK MY STATIC POINTS BALANCE?
To view your current points balance, simply log-in to your account and select "Static Rewards." Your points balance will populate under the "Earn Points" heading of this page and can also be viewed on the checkout page.
WHAT HAPPENS TO MY POINTS WHEN I RETURN ITEMS?
When items are refunded, your points balance will be deducted from the amount.
HOW DO I SPEND MY POINTS?
Once you have enough points, log into your Static Rewards account and shop! At the time of checkout, your points redemption will automatically appear on the Customer Information page. Select the points redemption value of your choice and apply the discount to your purchase. ​
I CANNOT LOG INTO MY ACCOUNT
Please reset your password by selecting the "Forgot Password" link on the Static Rewards sign in page. We'll send an email to the address on file that will prompt you to reset your password, then sign in as usual! If you're still having issues, please contact us at hello@staticnails.com.
I PERFORMED AN ACTION THAT YOU REWARD WITH POINTS (i.e LIKED/SHARED STATIC'S PAGE ON MY SOCIAL ACCOUNTS) BUT MY POINTS ARE NOT SHOWING UP. 
You must like / share / follow us via the modual on the Static Rewards page for points to automatically register in your account. Please note that it may take up to 24 hours for your point balance to adjust. If your balance still doesn't look right after this time, please contact our team at hello@staticnails.com so we may assist you.
CUSTOMERS CURRENT FAVORITES